wpDataTables – responsive tables in WordPress
Summary
Attention people asking for support Hi guys, just wanted to let you know that I'm away for a vacation till 10.05. You can send support requests in normal mode, I will answer everything once I get back. Apologize in case of any inconvenience. Documentation and examples site contains main documentation, tutorials, feature explanation, and live […]
Posted June 12, 2014 by admin
Attention people asking for support
Hi guys, just wanted to let you know that I'm away for a vacation till 10.05. You can send support requests in normal mode, I will answer everything once I get back. Apologize in case of any inconvenience.
Documentation and examples site contains main documentation, tutorials, feature explanation, and live demos for most of the table types and features.
Sandbox demo site shows you the front-end data editing feature, and there you can see the results of all action that you do in the WP admin panel. All changes and uploads are flushed once per hour.
Sandbox WP Admin panel (login: demo, password: demo) is designed so you could try the plugin, test and see it from the inside before you buy. All changes and uploads are flushed once per hour.
Control panel login: demo/demo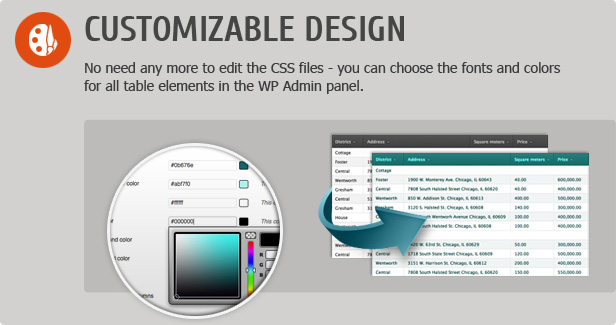 Articles about wpDataTables plugin
ScratchingInfo – wpDataTables – Best WordPress Responsive Editable Tables Plugin
WP-magazin.ch – Tabellen in WordPress
User reviews





Plugin listed in WP catalogs
wpDataTables in social networks
Check out the PHP module on which the plugin is based!
For the people who want to request support: please make sure that you check the FAQ first. if your question isn't there feel free to contact me through the contact form here. I receive a lot of requests nowadays, so I ask you for understanding in case of delayed replies.
Version 1.5 (released 21.04.2014)
A major update. Lot of new stuff. New in this version:
More responsiveness – we replaced all jQuery UI dialogs and datepicker with responsive popups which would make both mobile and desktop experience of working with the tables nicer.
General redesign – we've done a big job on redesign – now tables have a modern flat design, all icons and preloder use font icon, all selectboxes and checkboxes have nice neat look.
Skins – Now tables have two skin options: a new one, and a second one if you liked old table design more.
More customization options – We added some customization options – e.g. you can now style the buttons, change the round botder radius, and change the overlay color for the popups.
Filter in a form or widget – Starting from this version you can put the advanced filter outside of the table – in a widget in a sidebar (see demo) or just above the table (see demo).
Redesign of admin panel – Admin panel now is also nicer and has animated popups.
Ungroup button – Many people asked for it, so we added it. Now if you grouped the rows by mistake you can ungroup them.
Fixes for date columns – There were known issues with sorting dates in european format, now these are fixed.
Fixed headers and columns discontinued – This feature rarely worked well and usually just made problems both for users and for the developers. So we finally decided to remove it.
WordPress 3.9 compatibility checked and approved working – there were some issues with MySQL after last WordPress update, now these are fixed.
For more info on what's new and complete changelog you can see this page.
Update procedure: Disable plugin, overwrite with files from the new package, enable plugin again. This is necessary since the database structure has to be updated on reactivation.
Video tutorials
Overview
wpDataTables 1.5 is a plugin, based on a phpDataTables module, and is designed to make table process of data representation quick, easy and effective. Now to insert big interactive multi-functional tables in your WordPress site you don't need to write a single line of code, or HTML markup – wpDataTables allow you to quickly build and render interactive tables with such features as sorting, or saving to PDF from almost any possible data source: CSV files, serialized PHP arrays, XML and JSON data sources.
Features
A short list of wpDataTables features:
WP Admin panel screenshots
Click to see full screenshot
Documentation and examples
Check out the documentation and live examples before you purchase on our demo site.
Offline version of documentation also included in the package.