iLightBox · Revolutionary Lightbox Plugin
Summary
What's iLightBox? iLightBox allows you to easily create the most beautiful responsive overlay windows using the jQuery JavaScript library. By combining support for a wide range of media with gorgeous skins and a user-friendly API, iLightBox aims to push the Lightbox concept as far as possible. Features jQuery capabilities. Responsive design. 6 ready to use […]
Posted June 13, 2013 by admin
What's iLightBox?
iLightBox allows you to easily create the most beautiful responsive overlay windows using the jQuery JavaScript library.
By combining support for a wide range of media with gorgeous skins and a user-friendly API, iLightBox aims to push the Lightbox concept as far as possible.

Features
jQuery capabilities.
Responsive design.
6 ready to use skins.
Native browser fullscreen support.
Cross browser, supports Chrome, FireFox, Safari, Opera and IE7+
Device friendly, works in iPhone, iPad, Android Devices and Windows Phone.
Highly User Interface Design.
Fully customizable, it's possible to customize or redesign all parts of iLightBox.
Search engine optimized (SEO)
YouTube and Vimeo videos are supported.
Video auto recognition from sites.
Smart Content recognizer
Option to preview thumbnail over navigation.
Advanced JavaScript API considered.
Smart resource loader
Simple clean & valid markup
Developed with pure object oriented JavaScript
Multilanguage support
Keyboard support
Touch support
Mouse support: (Click, Wheel)
Extended HTML documentation
Powerful, documented API — public methods, properties, callbacks
What are buyers saying:
"Greetings, this is amazing lightbox! Nice Job! Modern, lightweight and just awesome."
—justabear
"AH! there we go… now everyone can see the 6 star rating this deserves :D"
—chipperson
"iLightBox is real great plug! i don't find a system to open the slideshow with only one thumb… great work"
—Ciccio Pasticcio
You can find more reviews from real buyers in comments page.
SUPPORT NOTES
To be able to help solve a problem quickly, please read the entries below. I will do my best to assist you. I provide a full range of technical support except:
I don't support 3rd-party code (external plugins, javascripts, flash players, etc.). In those cases you have to contact the authors.
I don't support errors provoked by the strong modification of the original packages.
I don't customize the packages in personal way.
If you sure that your improvement ideas will be helpful to others, please don't hesitate to share it with me. Most likely that it will became a free package update.
If you have a more general question relating to scripts on CodeCanyon, you might consider visiting the forums
and asking your question in the "Item Discussion" section.
View on your mobile device

Screenshot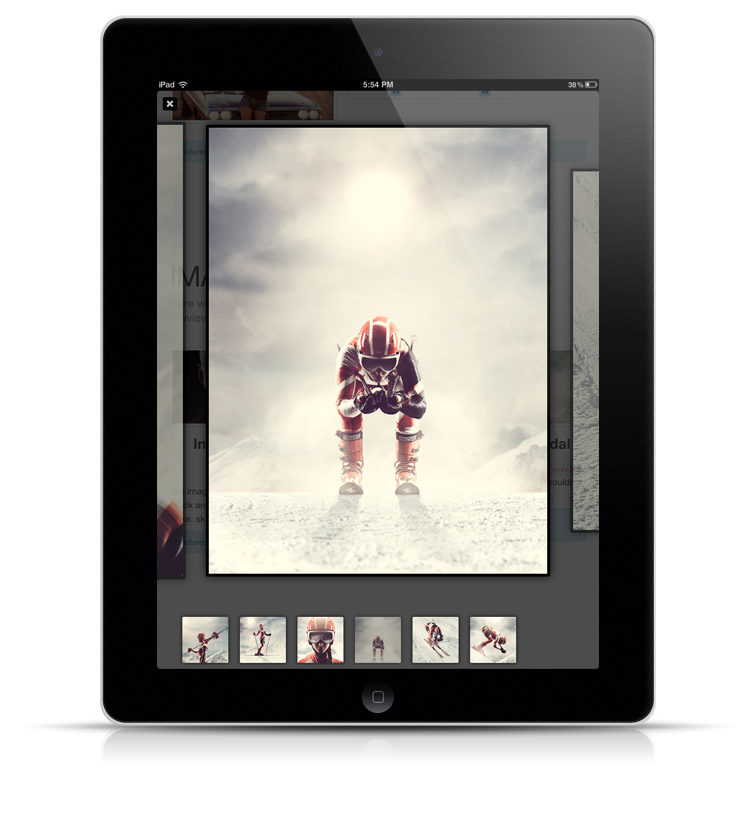 Skins